Does your big toe pain keep you standing still?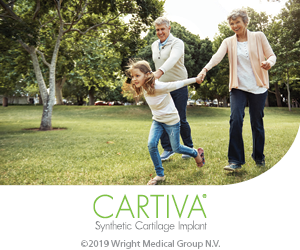 The big toe joint holds up 100% of your weight every time you step.1 That pressure can cause the cartilage in the joint to wear down, leading to painful big toe arthritis. The good news? There are treatment options that can help you move again.
what is CARTIVA® SCI synthetic cartilage implant (SCI)?
CARTIVA® SCI HELPS KEEP YOU MOVING
CARTIVA® SCI is a quick 35-minute procedure where your physician replaces the damaged cartilage in your big toe with a new synthetic cartilage that behaves like the natural cartilage of your big toe joint.2 It's the only FDA approved option that safely and effectively reduces arthritis pain while also improving your toe's range of motion.3
FIND OUT IF CARTIVA® SCI IS RIGHT FOR YOU