Knee Replacement Surgery in Decatur and Hartselle, Alabama
Knee pain can be alleviated through many non-surgical methods. However, sometimes knee replacement surgery is the best solution when non-surgical methods aren't enough to restore or maintain mobility. At DOC Orthopaedics and Sports Medicine, our skilled orthopedic surgeons use state-of-the-art technology to perform full and partial knee replacements. Serving patients throughout the Decatur and Hartselle, Alabama areas, we can help you get back on your feet.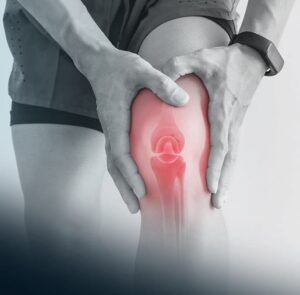 Partial Knee Replacement vs. Full Knee Replacement
If all other treatments are ruled out and joint pain and stiffness make everyday life increasingly difficult, patients are considered for knee replacement surgery. Candidates for surgery may have the following conditions:
Degenerative arthritis
Rheumatoid arthritis
Avascular necrosis
Fracture
And more…
Metal or plastic implants are placed by an orthopedic surgeon. The goal of these implants is for them to function as natural anatomy, helping to improve or restore mobility. These implants can replace a portion of the joint or the entire joint as needed. The knee is divided into three areas:
Lateral (outside)
Medial (inside)
Patellofemoral/anterior (under the knee cap)
A partial knee replacement will restore one of the areas listed above, while full reconstruction addresses all of the above areas.
Mako Hip and Knee Replacement Using Robotic Technology
DOC Orthopaedics and Sports Medicine is proud to offer Mako SmartRobotics to perform your total knee, partial knee, and total hip replacements. The precision technology allows our skilled surgeons to adjust your plan during surgery as needed to ensure you receive the utmost care. We understand that every patient is different, which means not all treatments will be the same. By using robotic technology, the surgeon can deliver an accurate plan of action that represents your individual needs.
Mako SmartRobotics uses 3-D CT-based planning software to provide your surgeon with an accurate look at your anatomy and to craft a personalized surgical joint-replacement plan. After creating this 3-D model, your surgeon will have the framework and guidance required to perform the procedure.
This personalized plan helps the surgeon guide Mako's robotic arm within a predefined area, so it's precisely prepared for the new implant. Mako also features AccuStop technology to help protect the healthy bone from unnecessary incisions. It should also be noted that Mako SmartRobotics does not make decisions on its own, perform the surgery, or move without human guidance — an orthopedic surgeon is the one performing your surgery. Mako SmartRobotics simply assists in ensuring the procedure is as accurate as possible.
Recovery After Knee Surgery
Patients typically remain in the hospital for a few days after surgery for rest and observation. Afterward, they'll work to recover over the next several weeks through physical therapy and other methods. When discharged from the hospital, patients are sent home with specific instructions for self-care. These may include:
Medication to alleviate pain and inflammation
Joint elevation and icing to relieve swelling
Guidelines for making the home safer (reacher/grabber, shower bench, etc.)
Recommendations for mobility aids (walker, crutches, etc.)
Follow-up medical and rehabilitation appointments
From strengthening your muscles to regaining mobility, physical therapy plays a vital role in post-surgical care. The road to recovery may seem slow, but you should begin to see noticeable improvements after a few weeks.
Find a Knee Replacement Doctor in the Decatur and Hartselle, AL Area
Let us help you get back to the active lifestyle you love. DOC Orthopaedics and Sports Medicine delivers cutting-edge, individualized care across a variety of orthopedic specialties. If you think you may need knee surgery, contact us for a consultation today.
Our providers have a passion for sports medicine and are closely involved in our community's sports teams. Our physicians are dedicated to evaluating, treating, and managing sports related injuries. Our goal is to get our players back in the game as quickly and safely as possible.
Types of sports injuries we treat
Anterior Cruciate Ligament (ACL) Tears
Ligament Tears
Tendonitis
Overuse Injuries
Concussions
Sports Physicals
Medial Patellofemoral Ligament (MPFL) Reconstruction
Fractures
We offer several advantages that help us provide better care for our community athletes
Sports physicals
Saturday morning clinic during football season
Football game coverage
---
DOC Physicians who specialize in Knees
---
We work with teams at the following schools